The pandemic has devastated restaurants. These people are opening new ones anyway
By Jeanne Sahadi, CNN Business Thu February 4, 2021
Talk about taking a risk. Opening a new restaurant is always a high-wire act. But to do so during a pandemic when most US restaurants are unable to operate at full capacity and more than 110,000 are estimated to have closed their doors for good, it seems like setting yourself up for failure. Yet data from Yelp shows that new restaurant and other food business openings in 2020 were down just 16% from 2019. And they were only down 4% in the fourth quarter relative to the year-ago period. Meaning some brave people are pushing ahead despite the current risks.CNN Business reached out to a few new restaurant owners to learn why they decided to open their establishments during the pandemic.
Seeing opportunity despite the pandemic
Peter Kasperski has owned a lot of restaurants in his career, primarily in Scottsdale, Arizona.But during 2020, he focused his attention on two new ones he founded with renowned mixologist Richie Moe in a growing arts and entertainment district in downtown Phoenix.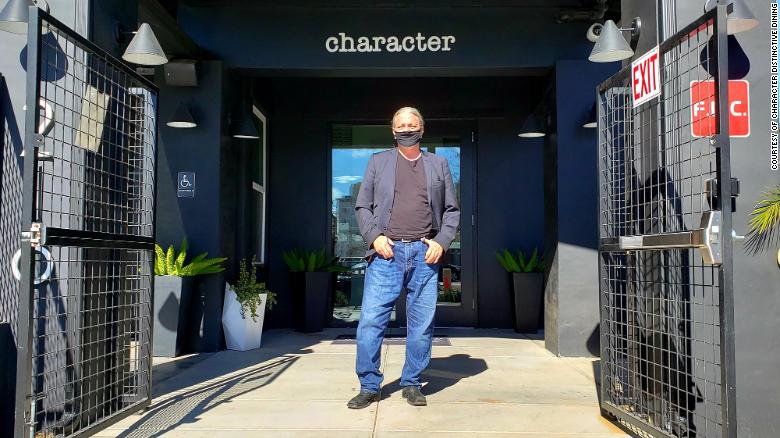 Peter Kasperski opened Character in downtown Phoenix, on November 20, 2020. He plans to open Alias, a "modern speakeasy" at the back of the same building later this month."It's a really interesting little area that will thrive in the next couple of years," Kasperski said, noting that businesses, housing and hospitals are going up nearby.Kasperski and Moe opened their restaurant, Character, on November 20. And they plan to open Alias, a "modern speakeasy,"in the back of Character later this month.He had alsobeen planning to create several other restaurants for the arts district last year, but he said the pandemic gave pause to the developers he was working with because it made clear just how volatile the food and beverage business could be.
It's not feasible for us to give up as a whole. The restaurant industry isn't going away."

PETER KASPERSKI, CO-OWNER OF CHARACTER AND ALIAS
"No one wants to lose money, but I'm willing to take a shot at stuff," Kasperski said, explaining that he loves working with talented people and getting to be creative. By taking that kind of pleasure in one's work, "typically the money follows," he said, although he also acknowledges that isn't always the case. The uncertain, prolonged nature of the pandemic can make people want to give up. But, Kasperski said, "It's not feasible for us to give up as a whole. The restaurant industry isn't going away."In the meantime, Character and Alias are taking every Covid precaution, he said, from spacing out tables to having multiple washing and sanitation stations to using paper menus, masks and gloves. But he said he also thinks his restaurants offer a different kind of protection in a difficult time.
"For a mental health precaution, sometimes people need to get out of the g**damn house."
Read the whole article here.